Automatic Flat-Wire Bending Machine
DSW-SFLB-A
Applications
Suitable for - 0.4 ~ 3.0 mm(T) x 5.0 ~ 10.0mm(H) flat wire
Finished product
For display - ends cut short
For display - ends cut short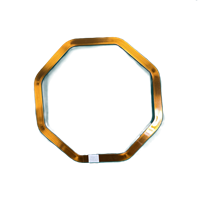 For display - ends cut short
For display - ends cut short
Feature
The data storage PLC makes the program easy to analyze.
The operation is intuitive and simple, and it is easy to use with the HMI editing program.
Special quickly change winding mold.
10 sets of programs can be stored, and program switching is fast.
Hierarchical management and password storage function to prevent non-related personnel from modifying the program.
The structure is simple, the control is easy, and the maintenance is convenient.
Specification
| | |
| --- | --- |
| Applicable wire diameter | 0.4 ~ 3.0mm(T) x 5.0 ~ 10.0mm(H) (Need to replace fixture) |
| Spindle speed | 100 ~ 800rpm (CW/CCW) |
| Finished inner diameter | 20 ~ 100mm(W) x 30 ~ 100 mm(L) (Need to replace fixture) |
| Finished product bending angle | R8 ~ R15mm (Need to replace fixture) |
| Finished product thickness | 3mm |
| Mold life | 10,000,000times |
| Angle setting | 0 ~ 180unit / per revolution |
| Movement accuracy | 0.01mm |
| Controller | PLC 2-axis control |
| Power supply | 1Φ 220Vac |
| Rated frequency | 50 ~ 60Hz ±1% |
| Power consumption | 0.7KW |
| Air pressure demand | 0.4 ~ 0.6Mpa |
| Machine dimensions | 2950(L) x 7785(W) x 1900(H) mm |
| Machine weight | 520kg ±10 |
Optional Item
CE equipment
Safety cover